Website Assessment
Perhaps you have built your website but have forgotten about it, hoping that it will generate business for you?
Maybe you are spending money on SEO (Search Engine Optimisation), blogs, social media activities but need a straight forward way to measure these resources to determine your return on investment?
Our website assessment analysis will evaluate your entire website to provide you with a view of the effectiveness of your website activities. We will test up to 250 website pages to provide a view of the entire site. We will then provide a comprehensive report with recommendations for improvement in areas needing attention. We also provide a PowerPoint presentation covering the Key Areas for Improvement.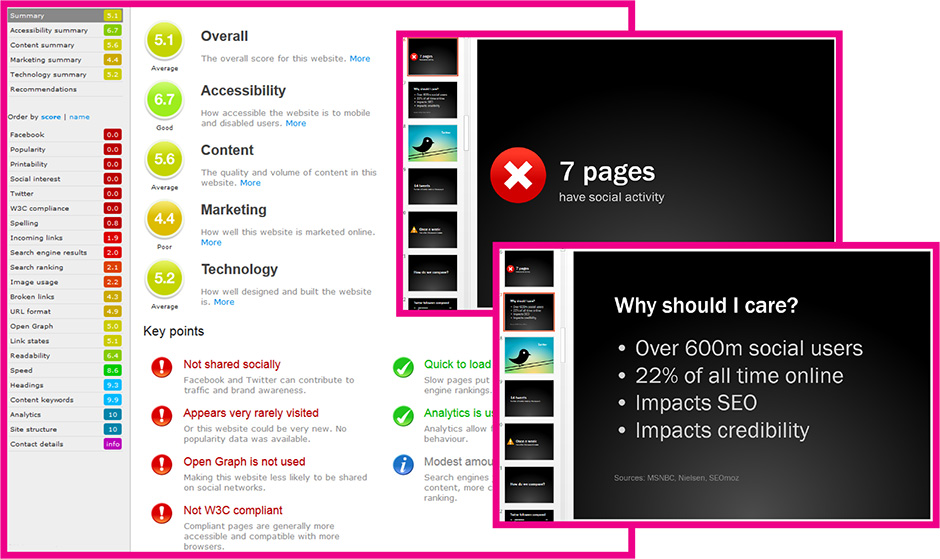 Summary:
Up to 250 pages tested
Over 40 comprehensive tests
Overall summary with Key Areas for Improvement
Results for each test with advice to improve the score
Key Areas for Improvement PowerPoint Presentation
Some of the key tests we perform:
Alternative text
Amount of content
Missing files
Broken links
Contact details
Error pages
Facebook
Freshness
Headings

Internal search
Languages
Open graph
Popularity
Printability
Readability
Redirections
Search engine rank
Search engine results

Social interest
Speed
Spelling
Stylesheets
Twitter
Typosquatting
URL format
W3C compliance
+ Many others